Family Entertainment Center at Arena Sports Issaquah
Coming in 2022
We are expanding our Arena Sports Issaquah location to include a new family entertainment center. The Issaquah center will be a multi-phased development with plans to open in the first half of 2022. Check out the video featuring the Mill Creek Family Entertainment Center to get an idea of all the fun that's coming to Issaquah. Planned attractions include laser tag, arcade games, escape rooms, eSports, Inflatable FunZone, a full-service restaurant, and in Phase 2, a ropes course with zipline and climbing walls.
All operations at Arena Sports Issaquah (including soccer classes and leagues, parties, camps, FunZone, etc.) will remain open during construction.
Stay tuned for more information on the grand opening date for the new family entertainment center!
Play over 80 arcade and redemption tickets for prizes! We'll offer a mix of exciting simulator games and timeless classics that will keep you coming back again and again. Fun for any age, we'll offer age-appropriate games for toddlers to adults. Bring your friends and family to enjoy an exciting place to let loose and relax.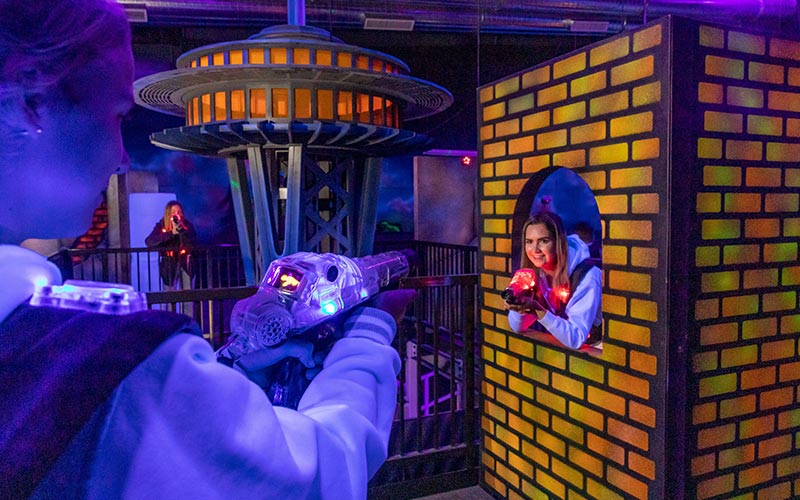 Bring video games to life in this laser tag battleground. Protect your home base while targeting your opponents in this high-intensity game. Score points by hitting targets across the playing field or shooting your opposing team. Laser tag uses infrared beams that hit players' censored vests, making this fun and exciting game safe for all ages.
Play for fun. Play to win. You'll feel the energy as soon as you step into our eSports Lounge! Whether you're looking for solo gameplay or a live stream event, or if you want to get in on the action with a casual tournament or enter one of our grand slam tournaments – Arena Sports' eSports Lounges have you covered.
Ropes Course & Zipline – Phase 2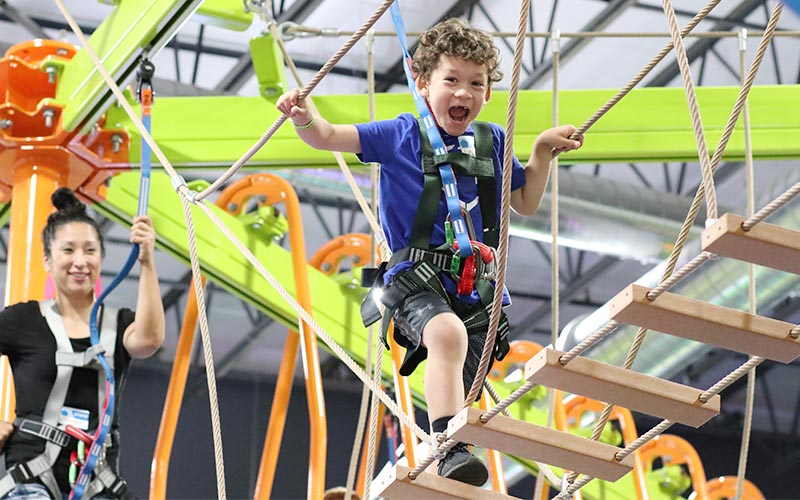 The ropes course will be an aerial attraction that is engineered for safety and designed for fun. The attraction will consist of elements like suspended bridges, cargo nets, rope ladders, a zipline, and more! Your safety is upheld with a full-body harness and redundant slingline, which is inserted into the overhead track keeping you connected at all times. You'll get an adventurous rush as you move along at your own pace.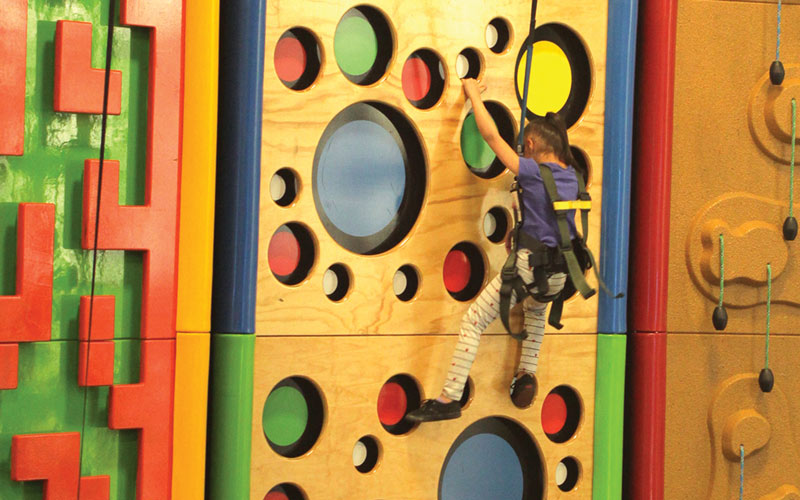 The climbing walls will be a fresh take on the world of traditional climbing. With an auto-belay system, the climbing walls will provide visitors with a variety of vertical activities all ranging in difficulty and each offering a unique experience. The inventive climbing walls each feature a different challenge and appeal not only to children, but to adults looking for fun. Climbers will find themselves enjoying both the physical test and the unforgettable experience that this activity provides.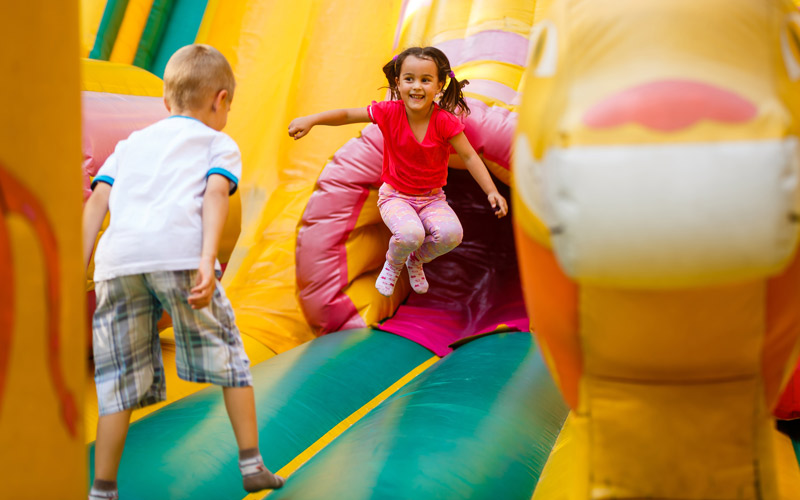 Our indoor Inflatable FunZone playgrounds are a huge hit with kids and a clear winner with their parents who can watch their kids giggle and play. Looking for a fun, kid-friendly activity? Kids ages 2-12 years have a blast running, jumping and sliding their way to fun in our indoor playground with multiple bounce houses.
No need to wait… the Inflatable FunZone is open now! Check out our drop-in times.
Come and experience our convenient and delicious dining option for in-house eating or take it to go! Exclusively at Arena Sports, Moe's Kitchen offers made-from-scratch gourmet pizzas, freshly made salads, chef-inspired appetizers and more.